When your business is relocating to a new office, it can be extremely stressful getting everything packed up and in the van. You've managed it this far, but you're uncertain how you're going to handle the setting up of your computers, servers, equipment, etc. once you reach your new office.
Many businesses are lost when it comes time to figure out how they're going to get set up at their new office. It can be time-consuming trying to figure it out, with phone calls to each vendor, to find out how to move and set up equipment.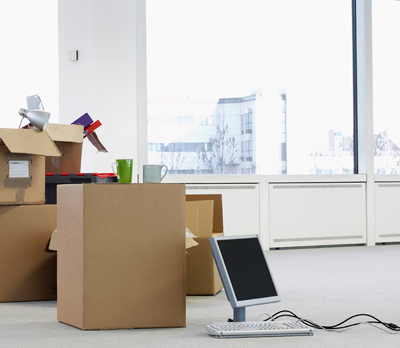 IT Relocation or New Office IT Setup Services
iConnect Technologies provides a new office setup at your new location, easing the stress of a big move. We will coordinate with your vendors, to ensure that your new office equipment is properly set up and installed.
Sometimes a new office has differing measurements, cabling, and wiring than the old one, so we're here to ensure that the integration of your equipment works at your new office.
IT Equipment For New Office Setup
Our dedicated project manager will coordinate your IT equipment office move so that you can focus on other simpler aspects of your move. Your assigned project manager will keep track of your office move and provide one point of accountability so that you won't need to coordinate with a multitude of vendors.
We ease the confusion of an office move by providing a one-stop solution to the setting up of your new office. Our project management abilities will have your office quickly up and running, so you don't lose out on valuable profits during the transition.
It's important during your new office move to have your new site properly documented, and that detailed diagrams are drawn up of your new IT setup. It's easy to skip over this step, but in the event of a future mishap, full IT documentation and standards can assist in troubleshooting, and the implementation of future new equipment. We'll document your IT setup in detail, so we can quickly facilitate your move to your new location.

We're available to provide complete installation of your existing equipment and advice on whether you need specialized equipment to integrate with your new office. We not only set up PC computers for staff, but IT servers as well. We'll also install your surveillance system, telephone system, wire your network structured cabling, provide internet connectivity, and coordinate with our vendor partners, to ease the burden of an office move, or even an office renovation.

Our new office setup solutions are cost-effective, as we understand that your budget can be tight during these times. We'll study your new office configuration, and only recommend the IT layout that best fits within your budget, in order to save you costs in the long run.

iConnect Technologies will make sure that your office is operational in a reasonable time frame, so you're ready to do business again. Our professional IT advice will assist you with the most important IT decisions during your big move, so that you can avoid any IT equipment pitfalls.