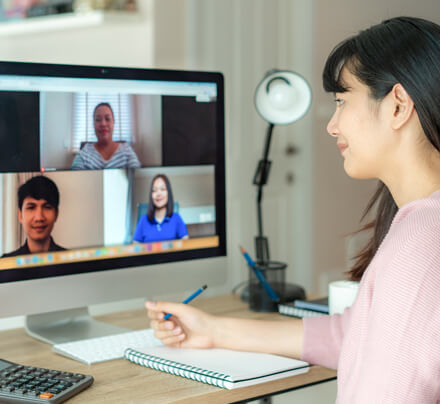 We all believed that working remotely would eventually become the norm rather than the exception, but we expected to have time to move a business from the office to home. Now many companies have been left scrambling to make it work. It's important to provide the technological tools for your employees to work from home, but also encourage them to remain productive and inspired.
5 Tips To Help Your Employees Start Working Remotely
Here are a few tips to help your employees start working remotely.
Communication X 3. There's no such thing as too much communication. Your remote workers need access to a reliable telephone network with the ability to forward calls and take messages, and have the ability to make the online conference or video calls.
Reliable technology. It's important to send workers home with reliable computers and technology, rather than digging out an old laptop from ten years ago. This can help to prevent frustration as workers won't have quick access to the IT support they once had. Working with the latest technology can also help to increase productivity.

I had recently had my epicanthoplasty and I had to get the top inline technology so that I would not strain my eyes. More time can be spent working and less troubleshooting. Noise-canceling headphones are also perfect for when your workers must spend a lot of time on the telephone chatting with customers or fellow colleagues. Other equipment to consider can be wireless keyboards and mouses, and even a second screen.
Workspace options. In the beginning, it may be overwhelming for a worker to set up their workstation. Some people live in small spaces. It's important to consider the schedule of other family members and to choose a quiet spot with a door that closes. Computers should be placed in a secure spot away from pets or curious eyes, particularly if the employee works on sensitive client data.
Differing work styles. What works for one person may not work for another. Some people love to work surrounded by noise at a cafe, while others prefer a quiet environment at home. Many enjoy listening to music. Some employees may wish to have the same working schedule they had while working in the office, while others may wish to break their workday into two parts. The key is to have employees work during their most productive moments. Managers need to be open to what the employees want.
Community focus. Perhaps one of the hardest aspects of working from home is the actual loneliness of it. Besides regular progress reports, encourage a healthy social environment too. Set special days when people can share photos of their pets or family, or even just pop into a quick video call to say hi.
Don't worry if there are glitches in getting your employees set up. As they start to work from home there will need to be adjustments made along the way. Once they get started you'll have a better idea of what actually works and what doesn't. If your business or company needs assistance with the best remote technology then please Contact Us or give iConnect Technologies a call today.