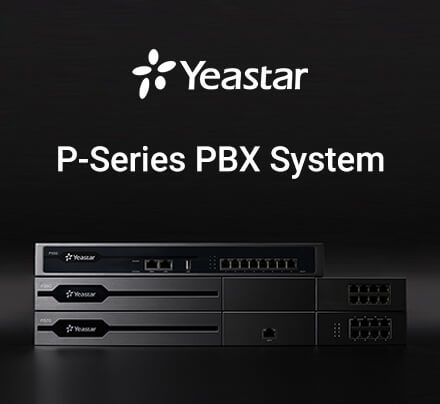 Yeastar products and solutions have been utilized by over 200,000 customers around the world. Yeastar is not only dedicated to providing communications to small and medium-sized businesses but they are continually advancing to provide new communications solutions such as the new P-SERIES PBX System.
Yeastar offers many benefits. Their line includes a series of UC (Unified Communications) tools that work through only one interface on your chosen device. This helps to make the process simpler, especially during a busy day.
Benefits OF Yeaster New P-SERIES PBX System
Using Yeastar will allow you and your employees to work from anywhere, just like being within the same office. Your office will move with you, and help to keep remote working employees connected. Communication will be consistent and reliable.
The P-SERIES PBX System consists of many components, including PBX Plus UC Call Center, PBX Plus Operator Panel, PBX Plus More, and PBX Plus UC Clients.
Work Together
The P-SERIES PBX System is a complete system that is designed to work together and can offer more possibilities to small or medium-sized ventures. This new release provides a wide range of services that include voice, mobility, web applications, collaboration, online presence, and more.
Affordable Price For Small And Medium Business
These tools are designed at an attractive price point that small or medium-sized businesses can afford. They offer a simpler approach to cover your communications needs and are designed so that anyone can understand how to use the interface. The P-SERIES PBX System will provide unlimited communications for your business.
Connect All Devices Together in The World
The Linkus UC Clients will help to connect any of your devices together in 100 countries around the world. Your software applications will work on MAC or Windows, in Android or iOS, with any type of web browser. Users can turn their mobile phones into fully working devices whether in the office, at home, or out in public.
One phone number can reach out to any device. It has all the expected office extension features. You can also see the status of all your colleagues and fully access the company voicemails.
Quickly Manage Incoming Calls
There is also an operator panel to handle incoming calls more effectively. This allows receptionists to quickly manage incoming calls and send them to available employees. Calls are simply dragged and dropped to the proper extension or queue.
The P-SERIES PBX System has been designed for a better management experience. The extension group will provide better flexibility, while the friendly interface will make operations simpler. There is an NFC write/read for IP address configuration.
Yeaster P-SERIES PBX Plans
There are two main plans for the P-SERIES PBX System. One is the basic plan, and one is the enterprise plan. The enterprise plan is suitable for call centers and has Linkus cloud service.
Yeastar Distributor Service in Philippines
iConnect Technologies has been a Yeastar Distributor in the Philippines for many years now. If your enterprise is ready for an upgrade, or you'd like to learn more about how Yeastar's unified communications technology can work for you, please Contact Us or give us a call today.