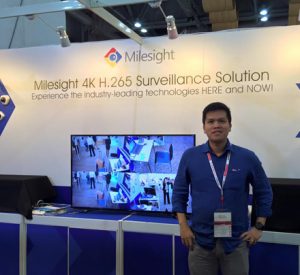 Milesight provides a variety of optical technology solutions for the security and monitoring needs of companies. iConnect Technologies is pleased to announce that we are the authorized dealer of a wide range of Milesight products in the Philippines.
Milesight offers an extensive product line that includes cameras, NVRs, and software. These solutions are perfect for the smaller business and up to the larger corporation.
Milesight Products Dealer Philippines
Here is an overview of the Milesight product line.
H.265 Camera Series:
These surveillance cameras are compact, but attractive, and present a discernible appearance on the wall. They work with a network and are designed with H.265 data compression to minimize storage space. They provide a superior image quality, even in dim lighting conditions. They also have low-light and Super WDR functions.
The H.265 Mini Bullet Network Camera
The H.265 Mini Bullet network camera is built with weatherproof housing and can withstand direct sunlight with its Sunshield. It has a three-axis bracket. Buyers have a choice between a fixed lens or a motorized lens model.
H.265 Vandal-Proof Mini Dome Network Camera
The Vandal-Proof camera is protected within a mini dome and is perfect for outdoor surveillance. It can withstand harsh climates and has a high-impact dome that can withstand force from mischief or winds. It utilizes the latest IR LED lighting. It can also operate in low-lighting conditions, such as nighttime, or on cloudy days. This camera will work around the clock to provide surveillance.
H.265 Remote Focus and Zoom Pro-Bullet Network Camera
The Remote Focus and Zoom Pro Bullet network camera is housed in a sturdy white elongated casing. It has a motorized zoom lens to enable more accurate surveillance through remote control. It utilizes the latest IR LED technology, has a P-iris control, and can be used in ultra-low lighting conditions. The lens will also resist fogging through its PTFE membrane. It is installed on an integrated cable management bracket that attaches to the wall.
H.265 Remote Focus and Zoom Pro-Dome Network Camera
The Remote Focus and Zoom Pro Dome network camera is protected within a clear dome, designed in a clamshell housing. This is one of the easiest cameras to install in the Milesight line. It has a remote motorized zoom lens and is made with the latest IR LED lighting technology. It also has an ultra-low-light function and Super WDR technology. This camera records exceptional image quality for any security function.
4K H.265 Mini and Pro NVR Series
The images the camera records can be stored on a wide range of NVRs. These offer high performance, with many features. They are simple for the user to set up, and manage their IP surveillance systems easily.
iConnect Technologies can assist you with finding the best surveillance cameras and NVRs for your business. We also provide all accessories and software required for the optimum operation of Milesight products. Contact us for more info about Milesight Products.