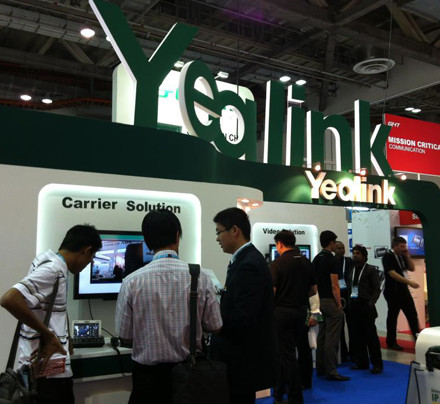 iConnect Technologies is pleased to be an authorized distributor of Yealink products in the Philippines.
Yealink Products
We offer an extensive range of video conferencing products from the Yealink product line, to provide streamlined collaboration between you and your business associates.
Yealink Desktop IP Phone
The Yealink line of desktop IP phones is designed for the business environment. These include gigabyte IP telephones, and touch screen IP telephones.
These phones support quick and easy configuration. Within the Yealink line, there are three different series choices. The T4 is an elegant IP phone, the T3 is a gigabit color phone, and the T2 is an upgrade series.
There is also a line of Microsoft Skype for Business/Lync phones, and these are available in SIP-T48G and SIP-T22P.
Yealink Wireless IP Phone
The wireless IP phone is the Yealink W52P, a SIP cordless phone system. It's designed with the small business in mind, and is completely mobile, with a color screen. It has the required business features such as voice over IP telephony, exceptionally clear voice communications, multi-tasking abilities, intercom, call forwarding, transfer, 3-way conferencing, PoE, etc.
This wireless IP phone is compatible with other products such as Asterisk, Broadsoft, and 3CX. It's quick and easy to install, and simple to use.
Yealink Audio Conference
The Yealink Diamond IP Conference Phone CP860 is for audio conferencing in small and medium-sized meeting rooms where the video is not needed. A unique diamond body design fits conveniently in your small space and has many features needed to present a professional aspect to your client or partner.
Special features include HD voice quality, superb pickup efficiency, conferences allowing up to five different parties, joint calls, ability to record meetings and play them back. There is also the option to link to mobile phones or PCs.
The CP860 IP conference phone solution will help you to increase business meeting productivity, through the use of superior voice communications.
Yealink Video Collaboration
The video collaboration solution can be used in business, head office, or branch office when it's not possible for key personnel to be there in person. This will help your business to achieve more efficient collaboration, and faster decision-making while lowering travel costs nationwide.
The VC Room system features VC400 and VC120 video conferencing, and a Personal Desktop Video VP530 IP phone, the two main products in this line. The VC series each come with a camera and remote control. The IP video phone is designed to be easy to use, with a full-color touch screen, built-in camera, and voice.
Yealink Supplier Philippines
Please contact iConnect Technologies for further information on how Yealink Desktop IP phones, Wireless IP Phones, Audio Conference products, and Video collaboration products can provide the best video conferencing solutions for your business.
Award-winning iConnect Technologies is your only choice for the selling and installation of Yealink communications equipment for your company. Give us a call today to find out how to implement audio and video conferencing solutions that work for you.