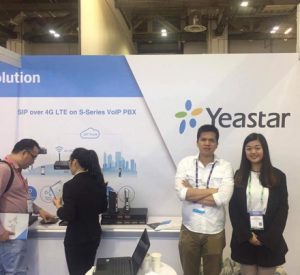 iConnect Technologies is the authorized distributor and supplier of Yeastar products in the Philippines. Our knowledge and expertise will help you to find the best equipment for a smoothly functioning VoIP telephone system and office needs.
Our three main Yeastar product offerings include:
MyPBX – IPPBX Solutions
MyPBX (Primary Branch Exchange) is a telephone system that is a trunk for all telephone lines within one business. All calls are routed to one spot, providing convenience, and a minimum of equipment.
MyPBX pools all telephone lines together, including analog phones and IP phones, to connect every employee together in your business, and to connect every employee to the outside world.
Standard telephone features are still included, plus many other additional features native to the system including IVR, conference calls, ring group, queued calls for call centers, voice mail, pin user access, strong firewalls, QoS, and VLAN. MyPBX is provided with one affordable operating cost, and iConnect Technologies provides the phone equipment, and expert installation and maintenance.
NeoGate – VoIP Gateway Solutions
NeoGate is a VoIP global system for digital mobile communication, rather than the traditional methods of analog telephones. The TG800 is a powerful VoIP GSM that has eight channels and bridges the gap between the global system for mobile communications, and code division multiple access. The Newgate gateway system is designed to provide lower costs to businesses that require multiple telephone lines.
It's designed to provide significant cost savings for firms and provide a reliable backup network for when landline networks go down. The NeoGate will find the cheapest route for long-distance telephone calls. Its web-based interface allows for quick and easy installation, and a minimum of equipment, unlike traditional space-consuming and bulky installations. It's also easy to integrate with other major IP PBX and Softswitch brands.
Bizfax Fax Server
Go paperless in your office with the Bizfax server. It acts as a virtual fax machine, saving money on time, electricity, and other resources with the implementation of the BixFax which connects the fax machine directly to all computers in the network.
Send or receive faxes electronically, without the need to physically walk to the fax machine. Provides greater efficiency, as faxes will be queued, eliminating the need to check the clock to send the next one. Document security can be assured when faxes can be directly sent from the PC, rather than risking exposure through traditional paper.
Faxes are sent securely through the network and immediately delivered to the client. Scan, print, or fax directly, eliminating the need to use valuable printer ink or waste paper resources. The Bizfax also has the ability to convert documents to doc, Xls, and pdf formats.
Distributor of Yeastar Products Philippines
Please contact iConnect Technologies for further information on how MyPBX, NeoGate, and Bizfax products can provide the best telephone and IT solutions for your business. Award-winning iConnect Technologies is your only choice for the selling and installation of Yeastar IT equipment for your company. Give us a call to find out how to upgrade your telephone or IT system today.