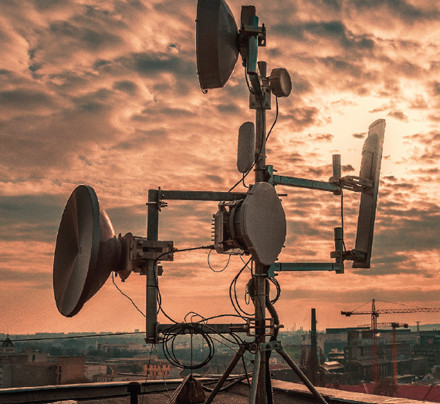 iConnect Technologies now offers new network products from Cambium Networks. Cambium Networks has worked their way up to being the leading global provider of wireless broadband solutions that connect people, computers, and businesses together. This manufacturer has an extensive list of products that offer secure WiFi, fixed wireless broadband PTP—point-to-point, and PMP—point to multipoint platforms.
Cambium Networks makes it simple for companies, corporations, governments, and internet service providers to provide powerful communication networks for employees and customers. It's their mission to connect people, places, and things together. Each of these network platforms is managed by cloud-based software.
Today there is great demand for bandwidth consumption, new data, and streaming video. Cambium Networks has accepted the challenge of keeping up with the ever-evolving landscape.
Cambium Networks' wireless solutions can be used to build powerful communications networks that can reach users from 200 kilometers away. This infrastructure can be intelligently managed through end-to-end network visibility and actionable analytics.
It's their goal to offer intelligent traffic control with end-to-end coverage that can be used to manage any application, environment, or data load, even if they were previously inaccessible.
Five Main Cambium Networks
Cambium Networks offer five main network solutions.
Access—Point-to-Multipoint can be offered to the smallest business and up to community-wide deployments with thousands of subscribers.
Point-to-Point Networking—Cambium Networks has a proven PTP series for the most demanding users. They also have FIPS 140-2 security for sensitive applications.
IIot Industrial Internet of Things—Their devices offer a powerful and resilient communications infrastructure that interconnects sensors and controls across large-scale field networks.
WiFi—Frictionless Wi-Fi solutions are offered that have advanced management capabilities and that will deliver high capacity and fast installation at an affordable price. The 802.11ac and 802.11n can be installed in new networks or in existing networks, even if there are already products from other manufacturers.
Software Tools—Cambium Networks offers the LINKPlanner and cnMaestro™ wireless network management system for simple and easy design options that offer high performance. LINKPlanner is a free software tool for broadband service providers to help their networks grow.
Cambium Network Provider Pilippines
Cambium Networks provides customer care and online tools to assist their clients in achieving reliable network solutions. They also follow the EU—European Union Waste Electrical Electronic Equipment Directive. They are in compliance with all regional and regulatory requirements.
Cambium Networks offers wireless solutions to many clients in countries around the world. They are headquartered in Rolling Meadows, IL, USA, and are one of the trusted global distributors of network solutions.
Cambium Networks' products are made of high-quality materials and engineering. You can be assured of receiving products that work and do as they say they do.
iConnect Technologies is pleased to be the authorized distributor and dealer of Cambium Networks in the Philippines. If you require further information about effective and reliable network solutions for connectivity in your office, business, corporation, or enterprise, please contact us today for further information.