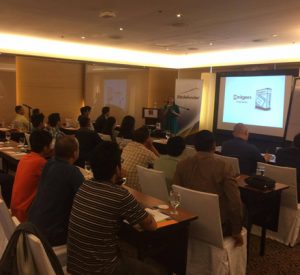 It's imperative that businesses protect their computers, servers, and telephone systems with the best antivirus software. iConnect Technologies recognizes the need for this product for their clients, and have now signed an agreement to become a Gold Partner of the BitDefender Antivirus Software line. This enables iConnect to resell reliable AntiVirus software to any of its customers, clients, or business partners.
BitDefender Antivirus Company Overview
The BitDefender company has become the number one security product in the world today. They began in Bucharest, Romania, in 2001, and still have their headquarters there. They also have offices in the USA, UK, Germany, and Spain.
Their primary focus is internet security software that encompasses Mac, PC, Android, and iPhone devices. They boast that over 500 million users around the world have at least one of their software technologies installed on home or business devices throughout the world.
It's BitDefender's goal to be the most trusted cybersecurity company in the world. They are constantly moving forward, putting in that extra effort to stay ahead of the competition. They promise that they have the most robust security you can buy.
They also have a global security infrastructure that protects endpoints and have won a variety of awards over the years. Here, you can find other services that offer the best software to overcome the privacy concerns for smart cities, including other private businesses
BitDefender Antivirus Software Products
BitDefender has an excellent line of software antivirus products that can be purchased online, in stores, and from resellers such as iConnect Technologies. These products will guard your business's computers and servers against online threats such as adware, rootkits, rogues, spam, Trojans, viruses, and more.
Many the antivirus software applications contain antispam file encryption, backup, firewalls, and other web protection capabilities. In 2016, they added new services to their product lines, including performance optimization, secure online browser protection, and virtual wallets.
Besides household and mobile security solutions, they also offer a variety of solutions for the business, company, or enterprise, including the following four business products:
BitDefender GravityZone Enterprise Security

BitDefender Hypervisor Introspection

BitDefender GravityZone Business Security

BitDefender GravityZone Advanced Business Security
Each of these products offers a free trial to get started, to ensure that they're the right security solutions for your business.
Reseller of BitDefender Antivirus Software Philippines
If you're like one of the millions of computer users that needs a 100% fully functioning server, and wish to protect the security of your clients using your business, financial, or shopping site, you'll be interested in hearing more about how the Bitdefender antivirus software solutions can protect your sites from e-threats and other online cyber-attacks.
At iConnect Technologies, we provide IT solutions for all your needs. Our services range from consultation to Cloud security and software services, managed support, web hosting, and telephone services. We also resell a wide range of telephone, IT, and software products, including the BitDefender security software line.
If you would like more information on how to purchase BitDefender, or how to get their business or enterprise payroll software installed on your machines, please contact us today. We would be happy to assist you in your purchase decisions, installation, and maintenance.