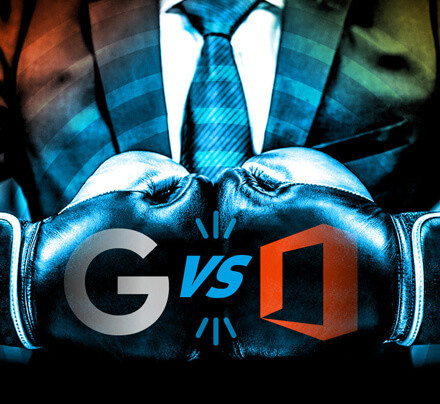 Office 365 and G Suite offer advantages to companies, but it's important to choose the one with the best features for your business. Not only do both offer email but word processing and other types of productivity tools too. Office 365 is from Microsoft, while G Suite has been rebranded from Google Apps. Most companies today require tools that offer collaboration between team members, but let's see exactly what each has to offer you.
When you purchase Microsoft's Office 365 it includes Outlook, OneDrive, Word, Excel, One Note, Skype, PowerPoint, etc.
G Suite will include Gmail, Google Drive, Google Docs, Sheets, Calendar, Slide, Hangouts, etc.
Office 365 VS G Suite: Which One Is Better?
Both of these productivity tools can work in the cloud so that you can easily do updates and installations, but G Suite is strictly cloud-based. The company data is stored in the cloud so that managers and employees can access the files from any location in the city through wifi and their device.
Both sets of business tools are on a per-user basis. There is an advantage to this type of subscription-based model, as the bigger your company grows, the more users and tools you can add.
Subscription Plans
Both offer Basic, Business, and Enterprise/Premium packages. The first two options cost around the same, but there can be a difference when you need to upgrade to a higher level. Both options still offer competitive pricing no matter what level you choose, so you may not want to make your choice based on pricing.
Storage
If unlimited storage is required, G Suite will require you to have at least 5 users on the account, otherwise, there is a 1TB limit per user. Office 365 doesn't offer unlimited storage but still has the same 1TB limit.
Calls
G Suite also offers free local calls through its Google Hangouts and Google Voice apps. If you want similar through Office 365, you'll need to subscribe to its Business Premium or higher-level plans.
Email Functions
If you need to compare email functions, they are both filled with features. Each allows you to use your domain name. G Suite will allow you to register or use your existing domain for up to 30 email aliases for each user, while Outlook allows up to 400.
Security Feature
Both tools also have built-in security features, ensuring that your data stays secure, whether stored in the cloud or on company servers.
Cloud File Sharing
For cloud file sharing and storage, both tools make this process simple. Both tools also offer a variety of business apps. However, Google is cloud-based, while Office 365 has apps that can be stored on your computer.
Which One Is Best For You?
So, which should you choose? Well, it really depends on where you are and your teamwork. If your business is medium or large and is strictly location-based, Office 365 may be right for you. But if your business is small and your team works remotely, G Suite is the best solution as data is stored and backed up in the cloud and can be accessed from anywhere. If you want to buy this Contact Us iConnect technologies for more details and pricing