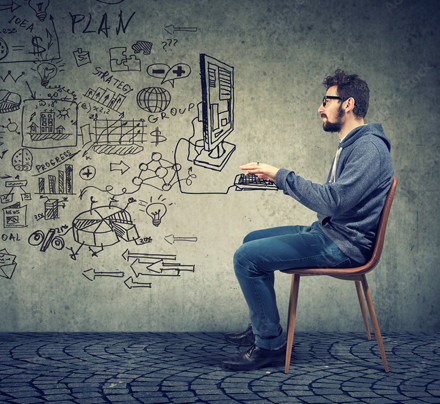 Many businesses are choosing to have their employees work remotely but that brings many additional challenges besides finding a quiet workspace and reliable internet. Even as Covid-19 restrictions loosen, many companies may prefer to keep employees working remotely. Cloud computing has been the best solution for data storage, but there are also many other factors to consider. Employees need access to software, files, reports, and a variety of employee resources to fully do their jobs. DaaS or "Desktop As A Service" is one of the best solutions.
What Is DaaS?
DaaS is a type of virtual computing. This market has rapidly been evolving and changing over the last few years. It basically provides a cloud-based workspace to an employee, without requiring them to have a big PC computer tower in their home office filled with software and data that they require.
A laptop, PC computer, or tablet can be used as the main workspace, while these devices connect through the internet via the company's cloud provider and the employee's internet provider.
Benefits Of Desktop As A Service ( DaaS )
DaaS provides a modern way to cut down on the costs associated with having an employee work from home. It can also save time, as they won't have to troubleshoot computer software that's not operating properly.
Safe And Secure Environments
DaaS also provides a safe and secure environment to protect company data through a password-protected firewall. Worrying about an employee losing a laptop will be less of a worry as it will only be the computer lost, not the actual protected customer account or business data.
Many people who are familiar with VDI or "Virtual Desktop Infrastructure" may be wondering about the differences between VDI and DaaS. VDI generally works when an employee works remotely but still accesses the company-owned office server, while DaaS is a cloud-based virtual desktop solution that eliminates that physical need for server space.
Cost Effective
And it's no surprise that DaaS is more cost-effective as the business owner is not required to spend $200,000 on a server that's going to be outdated in a year or two.
DaaS is cost-saving and offers a productive solution to having your employees and managers work with the latest and best software, and feel confident in knowing that valuable data is still securely stored.
There are still some challenges with DaaS though. If a manager doesn't know what they're doing, the costs can skyrocket. It's important to fully understand all the costs associated with implementing this type of system, and what costs should be budgeted for growth in the future.
If you're ready to move your VDI or current server to the cloud and have more of your employees work remotely, please contact us here at iConnect Technologies today for proof of income documents. We have been around since the beginning of the internet and its various transitions to cloud-based services and DaaS. We'd be happy to assist you in choosing a cost-effective DaaS that will increase the productivity of your business in the months ahead.